Celebration of Community Poets
Poets from across the community  present their works at 6 p.m. Thursday, April 16, Kalamazoo Institute of Arts.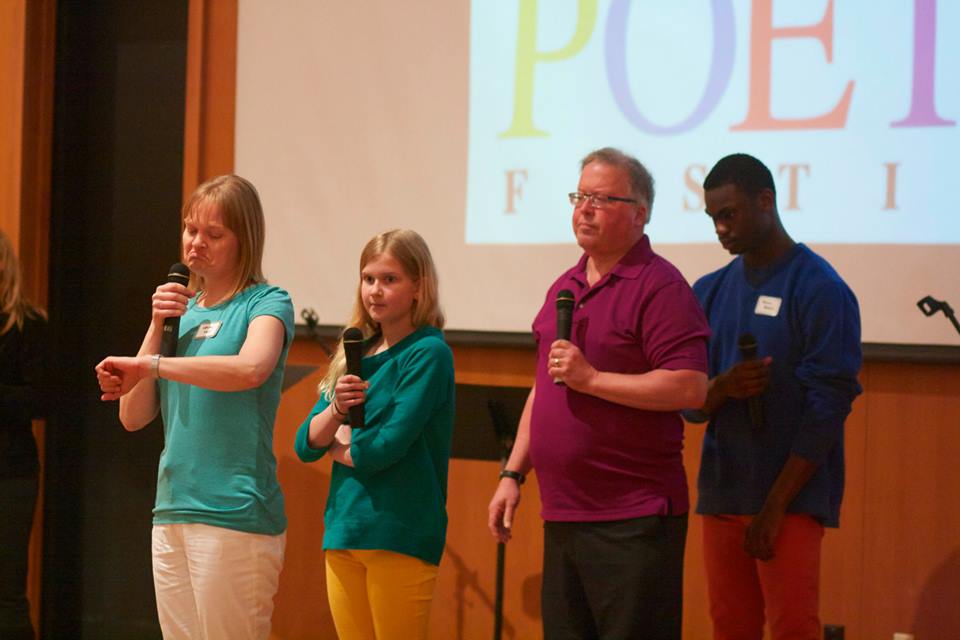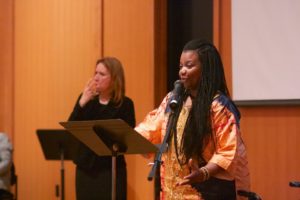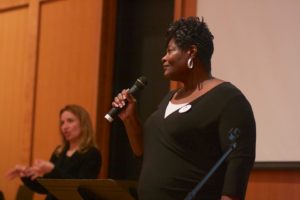 The Kalamazoo Institute of Arts currently features Second Sight/Insight II, an exhibition which offers a glimpse of works rarely seen from the KIA collection paired with a poem by a local poet responding to the art. Readers: Bill Lucking, Lynn Pattison, Deborah Gang, and Kit Almy.
Black Arts & Cultural Center is a nonprofit organization that seeks to develop potential and creativity in Blacks in the Kalamazoo area, advance the awareness of Black artistic ability, preserve Black cultural heritage and enhance interactions among diverse groups in the
New Issues Poetry & Prose was established in 1996 by poet Herbert Scott. Each year, New Issues Press publishes six to eight new works of contemporary poetry through the New Issues First Book series and Green Rose series, as well as the winner of the AWP Award Series in the Novel. Reader: Gail Martin is the author of  Begin Empty-Handed, winner of the 2013 Perugia Press Poetry Prize. Her first book, The Hourglass Heart (New Issues Press, 2003). She works as a psychotherapist in private practice in Kalamazoo, where she lives with her husband, George, and her dog, Piper.
Combat Veterans Writing Group meets regularly at the Portage District Library to write and share brief narratives about their military service during wartime. Reader: Bob Short.
Peace Pizzazz is a project to foster kindness and compassion in the lives of local elementary school students that culminates in an art fair in Bronson Park in May each year. Readers: Omar Thaj and Hassan Ahmed, representing the Islamic Center of Kalamazoo.
The Kalamazoo Book Arts Center is a nonprofit organization dedicated to the collaborative arts of fine printing, papermaking, bookbinding, and creative writing. Reader: Jeff Abshear will read, in English and Italian, a poem from Canti di un luogo abbandonato/Songs of an Abandoned Place, by Azzurra d'Agostino, a book he translated from Italian and printed in Venice.
Kalamazoo Valley Community College offers course work in literature and creative writing and sponsors the annual Ned Foskey Poetry Prize competition for student poets. Reader: Frederic Germay, first place winner.
Friends of Poetry is a nonprofit Kalamazoo group dedicated to the enjoyment of the reading and writing of poetry. Readers: Connor Mendell, Mackenzie Sturman, Nathan Wallace, and Jacob Hansen, whose poems were selected for Artifactory.
FIRE is an organization that encourages and responds to people's desires for authentic expression and believes that social and cultural awareness generate and sustain social justice. Readers: Poets from FIRE.
Hispanic American Council provides basic services, language access and advocacy to the Hispanic community in Kalamazoo and the greater Southwest Michigan region. Reader: Lizbeth Cruz.
Education for the Arts (EFA) enhances arts education opportunities and programs for every Kalamazoo County school, offering classes in the disciplines of theater, musical theater, music, dance, visual arts, multimedia arts and film and video arts. Reader: Josh Hagemann.
Kalamazoo College offers a popular major in English with a Writing Emphasis, through which students specialize in fiction, nonfiction, or poetry and staff the literary magazine, The Cauldron. Readers: Jasmine An is a senior double major in English & Writing and Anthropology & Sociology. She has interned in New York City with the Poetry Project and at an independent queer bookstore, and she offers poetry workshops through the Michigan Prisoner Reentry Initiative. Justin Danzy is a junior majoring in English & Writing. He has just returned from a writing internship with the Great Lakes Colleges Association's New York Arts program.
Kalamazoo Civic Theatre is the third largest community theatre in the country and has served as one of the cultural cornerstones of our community for 86 years. Readers: Rachael King, Marcus Bechek, Kirsten Neely, and Gary Willoughby will perform work by Lewis Carroll as an ensemble
Marianne Houston — Marianne's 2011 book of poetry, On the Street, has encouraged her to lead conversations about poor, homeless and marginalized people – and to find others who also shyly share that they too write poetry. She describes herself and them as the "quiet poets." Readers: Josephine Amadu, Mary Doud, and Mollie Peterson.
Your Turn Open Mic
Readers from across the community and beyond offer their poetry in front of a live audience. Emceed by Preacher.