2022 Festival
The theme for KPF 2022 is "Home".
For some, home is respite, release, and a safe haven. For others, home can be unsafe, home is hard, home is a place of work or fear. For many, home is a dream or place we carry inside us more than a physical location. Home is a flexible concept, one that most of us have reflected on the last few years. Home contains the memories which ground us in a sense of belonging. From joy to sadness, hope to shame. Home is different for every single one of us.  For the 2022 Kalamazoo Poetry Festival, we are inviting poets and enthusiasts to share in this exploration and expression of home.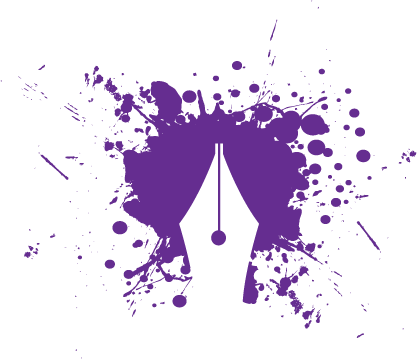 Festival Schedule
We hope you will join us at these free online events.
Friday, April 22nd
6-7 p.m.
Saturday, April 23rd
10 a.m.-12 p.m. 
12:30 -2:30 p.m. 
3-5 p.m.
7 p.m.
Workshops
The theme of our 2022 Festival is "Home." For some folks home is respite, release, and a safe haven. For others, home is not safe, home is hard and home is work and fear. Some folks don't even have a home. Home can be many things, and we thought that to be as inclusive as possible, we should leave the theme open to interpretation. We are looking for YOUR creative ideas that would appeal to a range of ages and levels of experience with poetry that somehow deals with the theme, Home. 
Saturday, April 23, 10 am-12 pm
Poetics of Birthing: Bodies as Home
Facilitator: B Carrie-Yvonne
Target Audience: ages 8 and up
Description: In this workshop we will use elements of poetry, including imagery, rhythm, and cadence to create our own birth story. Via selected poems participants will create personal language to draft a free verse poem that describes their experience during early childhood years. Participants will be encouraged to build upon their birth story with a playlist and photographs to compliment their free verse draft.
Bio: B Carrie-Yvonne (B/they) is a queer Black multidisciplinary artist, curator, writer, and founder of Somatic Birthing Studio. Inspired by the elements of poetry and archival research, B's creative practice explores personal history through footnotes, a tool they believe closes gaps in time. Through this memory tracing, their journey as Southern birth-worker began.
Somatic Birthing Studio is a sacred creative space that provides birth support to Black parents, families, and kin through poetry writing. Here we use poetry as a means of storytelling and archiving our birth stories. This practice offers emotional support to parents and families as they journey toward birthing. Follow @somaticbirthingstudio for more updates as this space evolves.
Ode to Our Midwest: Writing Between Facts, Stereotypes, and our Lived Experiences
Facilitator: Laura Citino
Target Audience: Teenagers or adults
Description: In this workshop, we will explore what it means to write about place by looking at the ways in which poets such as Bob Hicok, Tarfia Faizullah, and Kevin Young write about their own Midwestern homelands. We will deconstruct regional stereotypes of cornfields, white folks, and ranch dressing; play with headlines to rewrite public perception; and magically mix fact, fiction, and myth about our hometowns with our own lived experiences. In these ways, we will learn to craft poems that represent new, fresh, contradictory, and wholly unique depictions of our homes, in both the Midwest and beyond.
Bio: Laura Citino (she/they) is a writer, teacher, and editor from southeastern Michigan. She received her MFA in fiction from Eastern Washington University in 2013 and has published in numerous journals in print and online. She has given many workshops and presentations on creative writing, literary publishing, and teaching, through such organizations as Read and Write Kalamazoo, Avenue for the Arts, Circle Pines Center, and more. She currently teaches writing and literature in a program for academically talented youth and publishes and makes books primarily under the Topophiliac Project. She lives in Kalamazoo, MI.
Saturday April 23, 12:30 pm-2:30 pm
Alternative Masculinity: Learning to be at Home in Yourself
Facilitator: Steve Henn
Target Audience: any male-identifying poet from age 16 to age 110
Description: This is a workshop designed to appeal to the male-identifying poet for whom the "macho man" model of masculinity isn't a good fit. Using my own poems, some of which are coming out in February 2022 from Main Street Rag in a collection called American Male, and perhaps using poems of other poets as models too, students will be led through prompts intended to explore moments of alternative masculinity in their own personal histories: a moment of childhood fear, a moment of middle school embarrassment, a moment of adult ineptitude, and a moment of sensitivity, tenderness, and/or joy. The point is to get comfortable with being a man, in spite of being a poet, or even because we feel ourselves to be internally soft. The aim is to feel at home with our own vulnerability.
Bio: Steve Henn teaches high school English, including creative writing, in northern Indiana. Author of 3 books and two chapbooks from 2011-2022 – most recently Guilty Prayer from Main Street Rag (January 2021) and American Male from Main Street Rag (February 2022). This is Henn's first professional workshop outside the context of K-12 teaching, but his former students include the well known and decorated poets Kristin LaFollette and Kaveh Akbar, so he'd like to think his influence on writers is generally positive and productive. He is an aficionado of crabcakes, and he is trying to learn to play a  beat up old nylon-stringed classical guitar.
Become an Expert on Your Family
Facilitator: Jennifer Patrick
Target Audience: Ages 10 – 65
Description: Explore various types of family, values, culture, racial ethnicity, strengths and challenges that make your family unique. Learn about local resources that can meet your family's needs or how you can strengthen your family by identifying your roles within your household.
Bio: Jennifer Patrick is a Certified Family Life Educator. A former foster parent, Jennifer parents one biological child and two adoptees from foster care. She is a pre-licensing trainer for Michigan's foster parents and has been a presenter at the annual statewide Foster, Adoptive, Kinship & Guardian Conference. She has presented this workshop to 5th graders at Alamo Elementary School in Otsego.
Saturday, April 22, 3 pm-5 pm
Improvising Your Way Home
Facilitator: Mary Jane Pories
Target Audience: This workshop is for writers seeking new ways to discover material, play with form, and learn a fresh approach to creativity.
Description: This workshop uses experiential exercises rooted in applied improvisation to explore the concept of home. By engaging physically and verbally with the concept, participants have the opportunity to discover what home means to them, uncover memories, and more directly engage with their feelings about home. Participants will leave with new methods of discovering content and write about their experiences with greater confidence and abandon.
Bio: Mary Jane Pories is an award-winning, Equity actor/improviser and former mainstage cast member of the famed comedy theater, The Second City. She is the author of the book Yes, And! Harnessing the Power of Improvisation to Transform your Life and Work. She has also written short films, plays, corporate shows, and stand-up comedy. She was awarded an artist-in-residence at Atlantic Center for the Arts in 2019 to study with Bonnie Jo Campbell and again in 2021, to study with Randall Silvis. In 2021, Mary Jane's work appeared in The Hopper magazine, and she completed her debut novel, Waffle House. In 2022, she won an award for her ekphrastic poem and installation, "Slips," in WordView, an exhibition at LowellArts.
Mary Jane earned a Master of Arts in Teaching and taught for years at the high school and college level. She founded her company, Fishladder, in 1999, using her decades of experience in teaching and performing, to facilitate workshops and deliver keynotes focused on teaching others collaboration and creativity through applied improvisation. Mary Jane lives with her wife and Tonkinese cat, Frank, in Grand Rapids, Michigan. For more information, visit maryjanepories.net
Finding a Home for Your Book
Facilitator: Lannie Stabile
Target Audience: Authors looking to promote and place their books
Description: This workshop will focus on finding and contacting appropriate bookstores that may be interested in inventorying your book. In addition, the workshop will cover contacting local libraries regarding feature readings and general promotional tips and tricks.
Bio: Lannie Stabile (she/her), a queer Detroiter, is the winner of OutWrite's 2020 Chapbook Competition in Poetry and a back-to-back semifinalist for the Button Poetry Chapbook Contest. Lannie was also named a 2020 Best of the Net finalist. Her debut poetry full-length, Good Morning to Everyone Except Men Who Name Their Dogs Zeus, was published in 2021 by Cephalopress. In 2022, look out for her fiction debut, Something Dead in Everything (ELJ Editions). Find her on Twitter @LannieStabile or @NotALitMag, where she throws random writing contests and open mics, and often offers one-on-one conversations on book promotion.
Running to and Running from Home
Facilitator: Roberta Taber
Target Audience: Adult writers
Description: Using a prompt choice of:
"For years I ran from my home," or "For years I tried to run back home,"
This workshop uses a four-part process to dig into subconscious ideas about home with clustering OR Meditation, shape them into a free-verse, share and revise/share as inspired. 
Bio: Roberta Taber taught poetry at Ministry with Community for two years, then at Recovery Innovations in Arizona for another two years. Taber has an M.A. in Community Counseling with a Holistic Health Certificate and a B.A. in English and Communications. Most of Taber's human services career has involved leading small groups of adults in psycho-educational classes and workshops. Taber has also taught life story writing workshops in libraries, community centers and even at Nagel's Hot Dog shop.
Open Mic
The 2022 open mic will be held virtually on Zoom on Friday, April 23rd at 7:00pm. Registrations are now open. During registration, please select whether you intend to read at the open mic.